Cookies
To make this website work properly, small data files called cookies are placed on your device.
Traceurs
Pour que ce site fonctionne correctement de petits fichiers de données appelés traceurs ou "cookies" sont placés sur votre appareil.
What is a cookie?
Cookies are text files placed on your computer to collect standard Internet log information and visitor behavior information. When you visit our website, we may collect information from you automatically through cookies or similar technology. For further information, visit allaboutcookies.org.
Qu'est-ce-qu'un cookie ?
Les cookies sont des fichiers texte placés sur votre ordinateur pour collecter des informations de journal Internet et des informations sur le comportement des visiteurs. Lorsque vous visitez notre site Web, nous pouvons collecter automatiquement des informations vous concernant par le biais de cookies ou de technologies similaires. Pour plus d'informations, visitez allaboutcookies.org.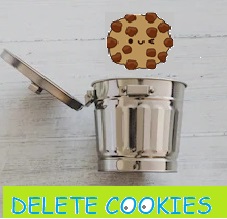 What do we do with cookies?
The cookie files used by our site serve two purposes:
allow the proper technical functioning of the site
allow us to compile site traffic statistics
These statistics do not contain any personal data.
There is no risk in accepting cookies from this site.
They only contain an anonymous identification number.
They cannot be run as codes or carry viruses.
Que faisons-nous avec les traceurs?
Les fichiers de cookies utilisés par notre site ont deux finalités:
permettre le bon fonctionnement technique du site

nous permettre de constituer les statistiques de fréquentation du site
Ces statistiques ne contiennent aucune donnée personnelle.
Il n'y a aucun risque à accepter les cookies de ce site.
Ils ne contiennent qu'un numéro d'identification anonyme.
Ils ne peuvent pas être exécutés en tant que codes ni transporter de virus.